Home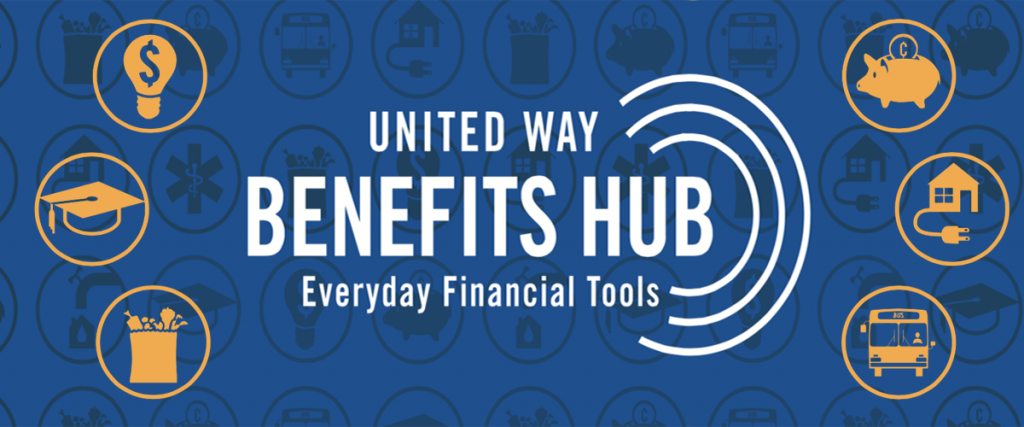 About Us
Welcome to the Benefits Hub! Everyday financial tools.
Are you balancing a combination of school, work, and life? Are you working hard, but still having a difficult time keeping up with bills and the rising cost of living? United Way of King County's Benefits Hub will help you get by, get ahead, and stay ahead so that you can achieve your college and career goals.
We'll work with you to "get by" by connecting you with emergency assistance and important income supports to mitigate whatever crisis you're facing today. Let's tackle it one step at a time so you can focus on other priorities.
Once you've achieved stability, we'll help you "get ahead" by creating and building savings. Finally, we'll make sure you "stay ahead" by talking through ways to improve your credit score and build a plan with you to build assets and ultimately reach your financial goals.
Online Appointments
Schedule an online virtual appointment today with one of our Financial Coaches using the an online virtual meeting platform or phone appointment opportunities are available for students at Bellevue College. If you would like to schedule a phone appointment, please specify in special instructions when making an appointment.
Services Offered
Housing Support:
Access funds, navigate emergency housing and receive other supports like rent assistance for back rent and funds for move-in costs and mortgage payments.
Rent Assistance: May provide up to four months of back pay for your rent or mortgage
Eligibility:

Enrolled in 6 credits or degree seeking program
Behind on rent, mortgage or have located a new place to live
 Demonstrate financial need
Make an appointment with us to apply.
          Note: Students are recommended to check with Benefits Hub Coach for a housing grant.
Food Access: DoorDash
In partnership with DoorDash, get a grocery bag of free food delivered weekly to your doorstep through United Way's Grocery Home Delivery program. Delivery through DoorDash ensures clean, contact-free delivery to you and your family.
Sign up at https://www.uwkc.org/need-help/food-delivery/
Food Access: Food Boxes
In partnership with the Emergency Feeding Project, starting October 5, the Benefits Hub will distribute food boxes to students Tuesdays Fall Quarter from 8am-5pm in U-building 111. To reserve a box, please make an appointment. Walk-ins boxes are available while supplies last.
Benefits Access
IMPORTANT: Due to COVID-19 the 20-hour work requirement for SNAP has been waived. See if you qualify/ apply at: https://www.washingtonconnection.org/home/
Sign up for the Supplemental Nutrition Assistance Program (SNAP) and/or Women, Infants and Children (WIC) nutritional program
Transportation Resources: sign up for ORCA LIFT, a program for discounted public transit
Utilities Assistance: get help paying for your utility bill
Healthcare Application Assistance
Virtual Tax Preparation 
Edquity (CLOSED AT THIS TIME)
The Edquity app is a one-stop-shop to find funding and resources when experiencing financial crisis. Download the Edquity app on your iPhone or Android device to:
Apply for emergency grant funding in under 15 minutes
Discover resources available on and off campus, such as access to food and healthcare
Create a personalized financial plan
Financial Coaching:
Build a personal savings and spending plan, understand credit, debt management and explore banking. A financial counselor referral for an on-line appointment is available for students interested in a Financial Counseling appointment.
Paying For College:
Apply for and understand FAFSA/WASFA, scholarships, and other funding resources.
 The Student Safety Net:(Apply at Student Central Online Only)
Are you a BC student that needs short term emergency food assistance?
Are you facing an unforeseen financial crisis?
The Student Safety Net may be able to help with food gift card
             Please contact  Student Central  if you need help with applying for The Safety Net Grant.
Benefits Hub Coach Contact Information:
Mahuampy Natera 
                   206-649-8124 EXT 11
mahuampy.natera@bellevuecollege.edu ‪
Elisabeth Kole
                   206-649-8124 EXT 10
---