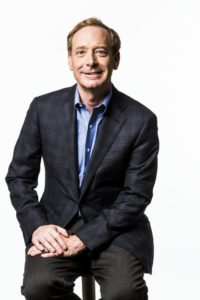 Brad Smith, president of Microsoft, will address graduates as the keynote speaker for Bellevue College's first-ever virtual commencement ceremony that will be streamed online Friday, June 19.
"The coming decade will offer us all the opportunity to help solve some of life's biggest challenges. It will require inventors, people of curiosity, people with a passion to help other people, which describes so many at Bellevue College," said Brad Smith, president of Microsoft. "I'm looking forward to honoring this class which has shown great resilience and adaptability in this tumultuous time, and sharing my thoughts on how we can all work towards a better future for all."
In his role as president, Smith leads a team of more than 1,400 business, legal and corporate affairs professionals working in 56 countries. He plays a key role in spearheading the company's work on critical issues involving the intersection of technology and society, including cybersecurity, privacy, artificial intelligence, human rights, immigration, philanthropy and environmental sustainability. In his recent book that he co-authored with Carol Ann Browne, Tools and Weapons: The Promise and Peril of the Digital Age, Brad showcases his deep thinking on these issues and how technology can serve humanity rather than be weaponized to inflict harm. The Australian Financial Review has described Smith as "one of the technology industry's most respected figures," and The New York Times has called him "a de facto ambassador for the technology industry at large."
"We're very excited to have Brad Smith as our keynote speaker," said Dr. Kristen Jones, Bellevue College's acting president. "Our graduates have faced and overcome tremendous challenges in attaining their degrees this year, and I think Brad's participation in our virtual celebration speaks to the pride that Microsoft, and our entire Bellevue community, has in their remarkable achievement."
In addition to his work at Microsoft, Smith is active in several civic organizations and in the broader technology industry. He has served on the Netflix board of directors since 2015 and chairs the board of directors of both Kids in Need of Defense (KIND) and the Washington State Opportunity Scholarship program.
Smith grew up in Appleton, Wisconsin. He earned a bachelor's degree from Princeton University, a J.D. from Columbia University Law School, and studied international law and economics at the Graduate Institute in Geneva, Switzerland.
Bellevue College expects to award 2,497 bachelor's and associate degrees, certificates and diplomas to 2,315 students. About 1,881 of this year's graduating class will be comprised of graduates who will receive associate degrees. Approximately 1,233 students are expected to graduate with distinction (3.5 grade-point average or higher).
Last Updated March 5, 2021