From Running Start to Start-Up
Aug 9, 2023
Entrepreneurs Amin Shaykho, Dani Shaykho, and Marwan El-Rukby embark on the path to success at Bellevue College.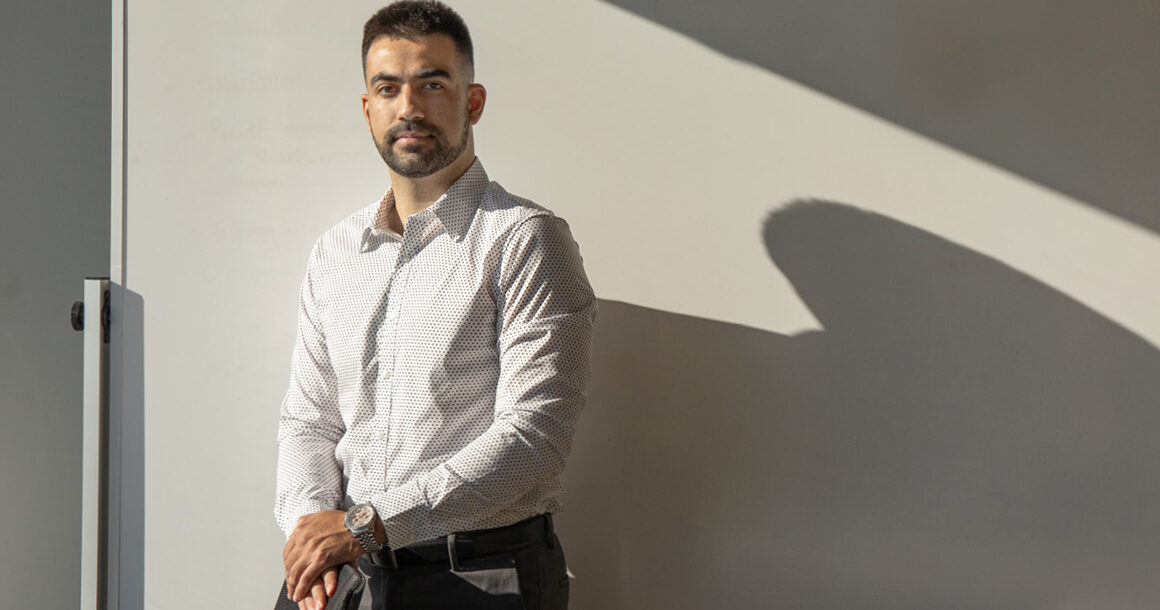 When Kadama, the popular education application, was first conceived in 2016, only one of the company's three founders had graduated from high school. The sole graduate was Amin Shaykho, a visionary 18-year old. He yearned to create a business that used technology to help others.
Amin partnered with his friend Marwan El-Rukby to hatch the Bellevue, Washington-based start-up that connects students with tutors. A few years later, Amin's younger brother Dani Shaykho joined the Kadama leadership team.
Kadama surged to popularity by providing students with virtual support during the COVID-19 pandemic. It also made learning fun. Today, it boasts nearly two million followers on TikTok and 435,000 on Instagram. Its innovative approach to education has been so successful, it has attracted $1.7 million in seed funding.
In the summer of 2016, Kadama was a glimmer of ambition, waiting to be ignited in Amin's mind. Amin and Marwan had both spent the previous school year balancing high school courses with a course load at Bellevue College (BC). They were enrolled in the Running Start program, which allows high school students to take college courses for credit.
At BC, Amin found a diverse community where people work together to create meaningful experiences for all. It inspired him to bring Kadama to life.
Planting the Seeds of an Enterprise
BC has scores of student clubs that span a wide range of interests. Amin took the initiative to launch a new club for computer science enthusiasts. The 20 members of Code for Care built mobile applications for non-profit organizations.
Amin had always believed in the importance of helping others, even as a teenager. In middle school and the early years of high school, he volunteered his time to civic organizations. He participated in clubs and took on extra projects to serve the community.
Code for Care embodied his core beliefs. It united people of different backgrounds, each one unique, working together for the greater good. Amin wanted to create a business that built upon that model. He envisioned an enterprise that could help others on a large scale.
Amin and Marwan knew that a college education was fundamental to reaching their goals. Working diligently, they sprinted toward their degrees. In 2016, Amin earned his high school diploma and Associate of Arts and Science degree at the same time. Marwan accomplished the same feat the following year. That summer, Amin created Kadama. The company name was fitting, derived from the Arabic word for "service."
Preparing for launch
In 2016, the collaboration between Amin and Marwan took off. They began building a prototype of the application that would become Kadama.
In the fall, Amin transferred to the University of Washington as a junior, enrolling in the computer science program. The following year, Marwan was admitted as a junior to the university's acclaimed Foster School of Business. Ultimately Dani, four years younger, transferred into the computer science program, too. All three earned bachelor's degrees from the University of Washington at age 20.
In the spring of 2019, they entered the Dempsey Startup Competition, a signature event at the Foster School of Business. Student teams pitch their business plans to judges: faculty, alumni, venture capitalists, and senior executives. At the end of the day, Kadama ranked among the top 36 of more than 100 entrants.
The competition helped the founders hone their business plan. It trained them to champion their ideas persuasively. The experience proved to be a stepping stone.
That summer, Amin, Marwan, and Dani were among an elite cohort accepted into the university's Jones + Foster Accelerator Program. The intensive program helps early-stage startups succeed. Entrepreneurs and investors mentored the trio as they set milestones and navigated the hurdles of launching an enterprise.
The three attribute their success not only to the help of outstanding mentors, but also to their willingness to make mistakes.
"Failure is part of the process," said Amin, now Kadama CEO. "You can't give up."
Initially, Amin, Marwan and Dani had envisioned Kadama as a platform for a wide range of services, from house cleaning to dog walking. Ultimately, they narrowed their focus to tutoring and student success.
"Mentors in business told us to focus, focus, focus," recalled Amin. "It was the best advice we got."
Already in its second round of beta testing in 2019, Kadama was poised to debut. In 2020, the public launch made Amin's dream a reality.
Rising to a New Challenge
That same year, the COVID-19 pandemic began. With the advent of the pandemic came the practice of social distancing. As more and more people stayed home, in-person services fell out of favor. Kadama pivoted to adopt an online, peer-to-peer tutoring model. It became wildly popular.
The Kadama app makes it easy for students to find a tutor who fits their needs and their budget. Students simply choose a subject, describe the kind of help they need, then state the hourly rate they are willing to pay. Kadama finds a match. Even students desperate for assistance late at night can get tutoring almost immediately.
Amin and Dani, vice president of product marketing, promote Kadama to students, mostly on TikTok. Their videos, filled with useful life tips and hacks, have gone viral. Dani's first TikTok video received more than one million hits.
Gaining Recognition
Kadama's success has earned its founders many accolades. In 2022 they were named to the Forbes 30 Under 30 list in two categories: Education and Youngest. The list recognizes the year's brightest young leaders and entrepreneurs. They were proud to be the first Syrian-Americans to make the list in both categories.
As CEO, Amin also made the Puget Sound Business Journal 40 under 40 list of influential young leaders.
Sharing Lessons Learned
To would-be entrepreneurs, the founders offer sage advice: Take advantage of the resources afforded you in college. Above all, it's important to roll up your sleeves and get started.
"The only reason we are successful today is because we tried it in the first place," Dani said.
Marwan, the company's chief operating officer, echoed him with two key words of wisdom: "Just try."