Free Screen Readers
Screen readers are utilized to provide written materials in audio format. Gain valuable insight by experiencing a screen reader for yourself. Because Screen Readers can be expensive to purchase, check out one of these three free ones.
---
New to Teaching Online Courses?
Are you new to teaching or designing online courses? If so, this is a great place to start! This checklist was developed by the Bellevue College eLearning Council for instructors and course designers who are teaching or building hybrid and online courses for the first time.
Access the Hybrid and Online Course Design Checklist. This handy checklist gives faculty a quick reference guide to make sure essential content and design elements are covered in addition to providing links to resources and support available.
---
Make Online Course More Engaging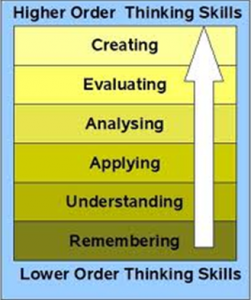 Creating an active learning environment in online courses presents different challenges than those posed by a face-to-face learning environment. Busy work must be eliminated in favor of course activities and assessments that move students from remembering to understanding, then from applying to analyzing, and finally from evaluating and to creating. The Canvas Learning Management System has many wonderful tools which allow students to actively engage with course content, course instructors and, most importantly, their fellow classmates.
Dr. Benjamin Bloom created a taxonomy for what he termed "significant learning." Read About Using Canvas Tools to Promote Active Learning based upon Bloom's Taxonomy.
---
The Canvas Course Syllabus
As Bellevue College increasingly embraces sustainable practices, faculty are encouraged to publish their Syllabus in Canvas. IT put together a quick reference guide for Canvas that links to the Course Syllabus Canvas Help Guide.
Be aware that formatting doesn't transfer correctly between Microsoft Word and Canvas, so heading styles won't be preserved. If you would like help creating an accessible syllabus with correct heading styles, schedule an appointment with the BC Instructional Designer.
---
Canvas Video Guides
With UDL Principles and Bloom's Taxonomy in mind, we must endeavor to present course content as clearly as possible to both engage the students and help them succeed with stated course learning objectives.
Do you like to see Canvas tools in action? There are a series of handy video guides published by Canvas that provide brief overviews of particular features in Canvas.
---
Contact
eLearning Department
www.bellevuecollege.edu/elearningfaculty
Office: D140
Last Updated November 3, 2020