James Riggall kicks off the start of Bellevue College's new course offerings on Virtual Reality with CMST 196: Virtual Reality: Design and Communications. There will be two courses, the other course being CMST 296 Virtual Reality Lab Project. Both courses are co-taught by James Riggall and Bruce Wolcott. The new courses are held in the Library Media Center Room D126-P, with work space in adjoining rooms D126-Q and D126-N as lab facilities equipped for VR headset use.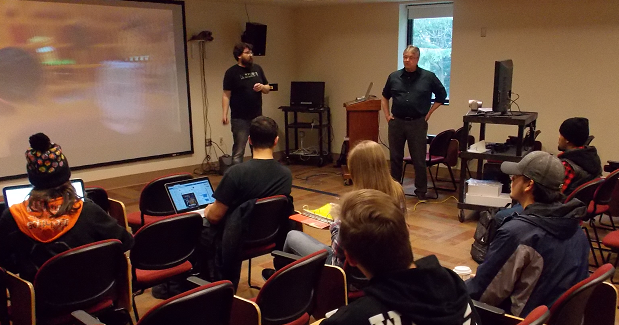 Here are some of the ways this course is a little different:
Teaching a class using VR: Virtual reality and augmented reality technology are starting to gain traction at the moment, but this is only a recent phenomenon, so higher education level teaching on this subject is still relatively unusual.
Strong industry and community engagement.  An extensive number of guest lecturers from the industry will be joining the lecture sessions for the course.
Course is being delivered globally.  Using the Library/Media Center's incredible videoconference facility, course is shared live with a number of other institutions (in the US and Australia).  These connections are live and interactive — it's not just a stream, remote audiences can ask questions and participate in class discussions.  In the very first class there were six institutions participating, including Bellevue College.
They were:
Bellevue College (WA, USA)
University of Washington Bothell (WA, USA)
King County Library (WA, USA)
Royal Melbourne Institute of Technology (RMIT), (VIC, AU)
Enterprize Hobart (TAS, AU)
Enterprize Launceston (TAS, AU)
Attendees included fifteen people in the classroom at Bellevue College, another fifteen in remote classrooms in the U.S., and thirty in Australia.
A big thank you to our Bellevue College eLearning & Media team which includes – Bruce Wolcott, Vivienne Mcclendon, Sukirti Ranade, Teri Hull, Gordon Hom, and Adam Burke, Larry Boykin, and Keith Rowley. A lot of energy and time was dedicated in the last few months to marketing the course and especially to making sure our Media room was equipped with the newest VR technology needed.
If you would like to include a Virtual Reality project in your classroom, please contact Bruce Wolcott.
Last Updated July 15, 2022