---
The Value of Sketching in Today's Digital Age
Urban Sketcher Presentation with Gabi Campanario
Monday, March 6th 1:00-2:00 p.m.
On Campus in D126P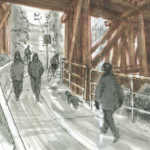 Please join us for this presentation by local Seattle Times artist and Urban Sketching founder, Gabi Campanario. The XR Lab has been talking a lot about Artificial Intelligence, and this on campus event is an opportunity to pause and reflect upon the continued value of hand drawn art and the role of the human artist.
Gabi Campanario is a Seattle Times artist and an Urban Sketching founder. He will showcases his unique personal style and discuss his drawing methods. Please view Gabi Campanrio's artwork on his website.
This event will take place in the library building, D126P and there is no need to register. A recording will be posted online about a week after it takes place on campus.
The eLearning department supports all faculty teaching online, hybrid and on-ground classes. We also support all students using Canvas. The XR Lab is located in the BC library and is committed to the application of new virtual reality and simulation technologies as tools for teaching and learning.
Last Updated March 10, 2023