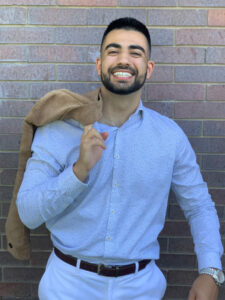 Amin Shaykho is not someone who sits idly by when he sees an unmet need or opportunity. The CEO and co-founder of the local service app, Kadama, is brimming with ideas and hopes for the future. Indeed, at the same time as Shaykho graduated with his associate degree from Bellevue College in 2016, he also graduated with his high school diploma from Lake Washington, because, well, opportunity.
Shaykho and longtime friend and fellow BC graduate, Marwan El-Rukby, saw an unmet need in their community in the summer of 2016. The obstacles Eastside residents faced in finding reliable and affordable service providers for domestic tasks were daunting, so the pair set out to create a platform to address the issue and Kadama, an app that makes requesting services easier for local consumers, was born.
The app allows users to advertise or perform a service, such as tutoring, yard work or dog walking. Consumers negotiate the price and time-frame for the service with providers in the community through the app's IOS platform. Think Craigslist, but faster and with background checks.
Shaykho and El-Rukby, along with current BC student, Dani Shaykho, launched the app publicly in 2018, immediately attracting thousands of users. News features and social media views soon followed and the app quickly reached #21 in the App Store in Lifestyle and was ranked the #36 startup by the University of Washington.
Shaykho credits his time at Bellevue College with encouraging his technical abilities and entrepreneurial spirit. "The nature of BC encourages students to participate and try new things," he said. "I was encouraged by many students, faculty and staff to join different clubs and classes. While I was hesitant at first, involving myself with numerous clubs and exploring different classes helped me discover my interests."
Through this exploration, Shaykho fell in love with both technology and business, taking his first computer science class, joining student clubs and starting Code for Care, a BC student club bringing students together to build mobile applications that assist local nonprofits. It was leading this team of 20 students that made clear to Shaykho he wanted to lead a company using technology to make the world a better place.
"When I enrolled at BC, I had no idea what I wanted to pursue, but through extracurricular activities and the introductory classes I took, I found my love for helping others through business and technology," he said. "I proceeded to take many STEM classes like computer science and calculus, and eventually applied and was accepted to the computer science program at the University of Washington (UW), Seattle."
Shaykho was initially nervous to transition to UW to complete his bachelor's in computer science, but he quickly realized he needn't fear. The courses in computer science, physics and calculus that he took at BC were comparable in difficulty and the study habits he developed at BC helped set him up for success in the second half of his bachelor's degree.
Post-graduation, Shaykho found himself with numerous employment opportunities from companies like Boeing and Apple. "These companies look for students who not only perform well in the classroom, but are well rounded," he said. "I mention this because when I first enrolled at BC, being 'well-rounded' wasn't a goal of mine. However, because of the culture and values of the institution, I quickly realized the value of immersing myself with different ideas, cultures and projects, which helped me grow my character—and career."
One year post-graduation, Shaykho is focusing on growing Kadama to the next level. In just one year the company has helped thousands of people, a fact he couldn't be more proud of.
Shaykho manages the Kadama team and oversees all marketing, outreach and development. He works on corporate strategy and social media marketing content, establishing relationships with other organizations, and helps lead the intern team.
"Today at Kadama, we make requesting services like tutoring, housework, errands fast, easy and affordable," he said. "Not only does this free up someone's day so that they can focus on what matters the most, it also provides opportunities for students and others to earn money by doing tasks on the side. I've had many students tell me that this app helps them save up for college. Kadama is making a difference and I'm excited to see the impact we'll have as we grow in size and scale across the globe."
Shaykho is "nowhere near" where he ultimately would like to be, noting the numerous humanitarian and climate crises facing his and future generations as a driving force behind what he does and aims to achieve.
"There are so many ventures I hope to be a part of in the future," he said. "I want to be a leader of an organization that uses technology to help people all over the world."
Shaykho has big dreams and is quick to recognize the people and organizations that helped get him to where he is today. He credits BC with the foundational support and guidance that helped shape his future endeavors. "The biggest value BC has on our community is providing that initial opportunity," he said. "If a student puts in full effort in what they do, the BC community will go out of their way to help them in return. That's what I love about BC—it's welcoming, full of support, and you're encouraged to try out new things until you discover your interests."
Last Updated March 5, 2021