Alum Explores Impact of Design on Homelessness Abroad
Nov 21, 2019
When Elizabeth Mahan moved to Seattle 14 years ago, she was struck by what has become an increasingly prevalent issue: the large number of people experiencing homelessness. "You can't walk down the street and not see the impact of the lack of affordable housing. You can't have dinner with friends without it coming up," said…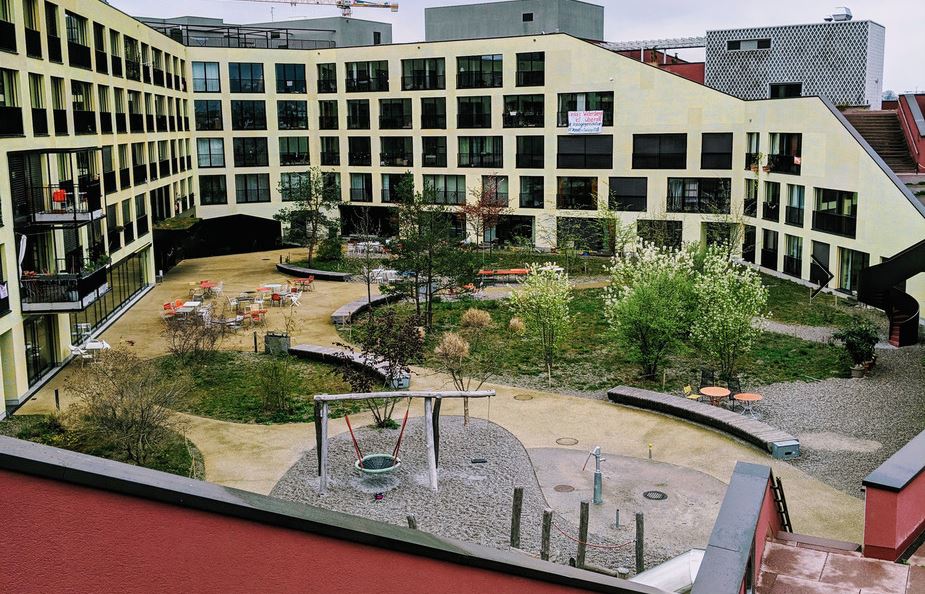 When Elizabeth Mahan moved to Seattle 14 years ago, she was struck by what has become an increasingly prevalent issue: the large number of people experiencing homelessness.
"You can't walk down the street and not see the impact of the lack of affordable housing. You can't have dinner with friends without it coming up," said Mahan, noting that a medical bill for a broken arm helped her have a greater appreciation for just how easy it can be to fall into homelessness. "Many people are one serious medical issue away from not being able to pay their bills."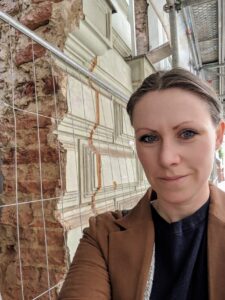 Mahan, a 2015 graduate of the Bellevue College Interior Design program, is the 2018 recipient of the Spencer de Mille Traveling Fellowship. The fellowship, which honors past president, Spencer de Mille, is intended to support foreign travel undertaken to research new and innovative practices related to the built environment, furthering the recipient's career and positively impacting the International Interior Design Association (IIDA) Northern Pacific Chapter community.
Mahan used her fellowship to explore six international projects where interior design is having a substantial impact on homelessness, and examine how it can help solidify recovery as people transition into permanent housing.
"Americans spend 90% of their lives indoors—that's a wild statistic. How these spaces are designed affect us," said Mahan. "At Bellevue College I began to truly appreciate just how critical interior spaces are to everything from our happiness to our health."
Throughout the spring of 2019, Mahan traveled from Seattle to Dallas, Helsinki, Esbjerg, Denmark, Vienna and Zurich to learn more about successful programs transitioning people from homelessness into permanent housing. She met with representatives from each location—both the creators and users—to see how interior design can impact the likelihood of home retention, improve livability, and aid in rebuilding a person's sense of dignity.
Her goal is to better understand how interior design is working to support communities, establish a formula to emulate it, and join forces with like-minded people.
"I am not an expert in homelessness—I'm an interested person trying to learn as much as I can and see where I can play a role. I am reading about it, trying to understand the solutions the city (Seattle) is proposing, and think about how best to educate people on this issue," said Mahan. "What I want to convey is that if homelessness doesn't motivate your heart, it should motivate your wallet. Study after study shows that allowing chronic homelessness to perpetuate is more expensive to taxpayers than getting people into housing with the necessary services."
Mahan's first takeaway from her research is that the issues of homelessness are the same no matter where you go, but there are solutions.
Design is a missing link in the discussions around homelessness. It can restore our sense of dignity and belonging. It can take someone from living on the floor to sitting at a table. That's pretty humanizing.

Elizabeth Mahan
While having a place to call home is critical for success and well-being, Mahan also found that having a voice in how a home comes to be is vital. In some of the buildings she visited, the residents had weekly meetings to discuss changes to the building rules they wanted to see, or a day trip they wanted to plan.
"I think my biggest takeaway is that we have to build in a way that integrates economic brackets. We can't relegate low income people to certain buildings and neighborhoods, and expect this type of segregation to lead to positive results. The most successful projects I saw were buildings that included apartments accessible to a range of incomes, with the understanding that government programs would do everything in their power to prevent vulnerable people from failing. By doing this you help prevent slums or "bad" neighborhoods, and can build inclusion," she said.
One of the barriers to this integrated approach, as Mahan sees it, is the 'every man for himself' narrative. "In Europe the collective historical memory has led to significantly more social safety nets. These are countries that are wealthy, solving homelessness, and not solely driven by profits," she said.
Mahan has created a website that distills what she learned over the course of her travels to share with the IIDA and beyond. She's also considering building an online toolkit that breaks down the steps to executing a community outreach project.
"Beth's project inspires faith in a more values-driven future, led by compassionate individuals who aren't afraid to make ethical ideals a part of their professional practices," said BC interior design faculty member Dan Beert. "The Spencer de Mille Traveling Fellowship is in honor of a dear friend and inveterate traveler who was on our faculty until he passed away unexpectedly several years ago. I know he'd be so proud to support Beth's journey."
Inspired by what she learned, Mahan is thinking about pursuing a master's in urban planning.
"I witnessed low threshold work programs that integrate people into their neighborhoods, a focus on access to green spaces and views, and beautiful design for all walks of life," said Mahan. "I'm not entirely sure where this will lead, but I know our design has to be more inclusive."