BC Faculty Dive Deep to Learn About Salmon
Jun 17, 2019
The iconic fish can be found in just about every Pacific Northwest grocery store and restaurant, but how much do you know about salmon? Ten Bellevue College faculty members immersed themselves in a weekend learning excursion to better understand how salmon is deeply interwoven in the lore, history and fabric of our region. The experience…
The iconic fish can be found in just about every Pacific Northwest grocery store and restaurant, but how much do you know about salmon? Ten Bellevue College faculty members immersed themselves in a weekend learning excursion to better understand how salmon is deeply interwoven in the lore, history and fabric of our region.
The experience was organized by the college's RISE Learning Institute as a means of facilitating campus and community connections, which in turn enriches the student experience. Given salmon's importance to the region, it seemed a no-brainer to focus the first RISE immersion on the fish.
"Salmon are so local and emblematic of the Pacific Northwest and yet they're something people know so little about," said Sapan Parekh, associate director of the RISE Learning Institute. "Salmon as a topic is applicable to numerous areas of study and interest and we wanted to make the immersion interesting to as many people as possible."
Held over the first weekend of Spring Quarter, Parekh is the first to admit the weekend itinerary was packed to the gills, but no one could think of something to cut. The more organizers dove into the subject, the more interesting it became. They learned that salmon plays a role in examining relationships between tribes and our government; businesses and industries rely upon them; and human behavior, from the tires we use on our vehicles to the ways in which we use our waterways, majorly impacts their survival.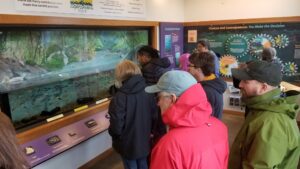 The weekend included trips to the Issaquah Salmon Hatchery, Zackuse Creek to learn from the Snoqualmie Tribe, the Mercer Slough Environmental Education Center, Pike Place Fish Market, and Etta's restaurant. Curated programming was offered by legal experts, Washington Fish and Wildlife Police, Two If By SeaFoods, the UW Superfund Research Program, and a weekend reflection was facilitated by UW EarthLab.
Local topics ranged from the Supreme Court's 2018 culvert case, due to which the state of Washington must uphold Native American treaty law by removing barriers that block salmon migration, to the decline of the Southern Resident Orca because their main food source, Chinook salmon, is shrinking.
"Every one of our presenters and hosts cares deeply about salmon," said Parekh. "For example, Shannon, from Two If By SeaFoods, came over from Eastern Washington and started off by discussing what it means to be a fisherman, but she quickly found herself explaining the negative ramifications of mining in Bristol Bay, Alaska, which is likely to destroy the pristine nature of the water and damage the salmon population we rely upon for food."
"When Sapan asked me to participate in the salmon event there was a part of me that dreaded losing weekend time with my family, but I couldn't say no because I saw a chance to weave together three stories about contaminants and salmon in a way that I had not yet been able to do," said Lisa Hayward Watts, UW Northwest Climate Science Center communications manager. "When I gave my talk Sunday and saw the audience jotting down notes and asking questions, I felt like my stories had found a place inside them…This is the kind of work I live to do, but find surprisingly few outlets for. I'm deeply grateful for having been included."
Parekh said one of the biggest takeaways from the weekend was the overwhelming kindness and generosity of the weekend's presenters and hosts. "The drive and care they have for the Pacific Northwest ecosystems was really stunning," said Parekh. "From the Pike Place Fish Market making space for us on their busiest day of the week to Tom Douglas (Etta's restaurant) hosting our lunch while their chefs talked about where they source their salmon and why – they even covered the cost! People truly went above and beyond."
"It made an impact on me personally, and I came away with a lot of useful information," said Krista Capodanno, English Learning Institute teaching faculty member. "I was able to learn directly from people in the community who make it their life's work to support the salmon, a symbol of the area in which we live and work. I'm excited to pass this information on to my students and encourage them to think differently about something often taken for granted in our community."
---
VIDEO TRANSCRIPT
[ukulele music]
How much do you know about this iconic fish?
[salmon swimming]
Our faculty went on a field trip to learn more about salmon
[faculty at Pike Place Fish Market]
[salmon filet being cut]
For two days they immersed themselves in the history, lore and impact salmon has on the Pacific Northwest
[faculty examining exhibit, tasting seafood at Pike Place Fish Market]
They learned that everything from the tires we use [salmon swimming] to the ways we use our waterways
[river with salmon]
can impact their survival
[salmon being washed under a faucet]
and the survival of other species, like Orca, who depend on them
[Orca swimming in Puget Sound]
Faculty will share what they learned with students so we can protect our natural resources
[faculty in a wooded area]
and enjoy salmon – sustainably
[fishmonger tossing fish at Pike Place Fish Market]