Dear Colleagues,
This Spring, the Health Sciences, Education & Wellness Institute (HSEWI) is hosting Fulbright Scholar Dr. Fabiola Vincent Moshi. Dr. Moshi comes to us from Tanzania, and is an expert in both clinical nursing (focusing on pregnancy and childbirth) and in teaching nursing.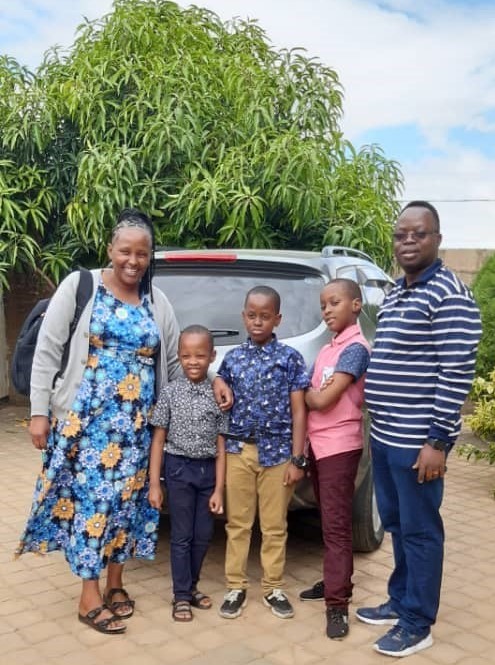 Dr. Moshi arrived to BC after a long journey that took 31 hours (flight time). It's her first time in the Unites States and something she considers a milestone in her career. She is currently exploring the possibility of a joint project titled: "Enhancing Pedagogical Competencies for Nursing Skills and Clinical Judgement in Nursing Education: The Role of Simulation Teaching Techniques and Virtual Simulation between Nursing Students from Tanzania and Washington State Nursing schools." The primary outcomes of the project are to improve nurse educators' competence in the use of simulation teaching techniques, improve nursing students' competence in nursing and clinical judgment skills, and enhance internationalization in nursing training.
Welcome to Bellevue College Dr. Moshi!
Updates
Town Hall Recording Now Available.
Today, we held a Town Hall on the proposed college budget for 2022-2023. If you missed it, you can access the recording of the Town Hall on the President's Office SharePoint site.
COLAs and Lump Sum Payment to Classified Staff.
In the April 4, 2022 edition of President's Notes, I shared that the Legislature approved a 3.25% COLA to both classified and exempt employees and that classified employees making less than $99,000 will also receive a lump sum payment of $2000. (Faculty were already slated to receive a COLA of 4.7%.) Someone asked why part-time classified employees were excluded from the lump sum payment. They aren't! The lump sum $2000 payment will be pro-rated for part-time classified employees, including non-permanent classified employees. To be eligible, employees must have been hired before July 1, 2022. Hourly unrepresented employees are not eligible. The payment is scheduled to be made on the July 25 paycheck.
Mark Your Calendars for the Year End Celebration.
The Year End Celebration & Excellence Awards will be held Wednesday, June 8 at 3 PM. This event is a time when faculty and staff gather and recognize employment milestones of our colleagues and celebrate the winners of the 2022 BC Faculty & Staff Excellence Awards. I'm looking forward to this wonderful opportunity to finally celebrate our employees in-person!
Save the Date for Commencement.
BC will return to an in-person Commencement Ceremony on Friday, June 24, 2022. The ceremony will be livestreamed for those unable to participate in-person and so family and friends anywhere in the world can enjoy this special moment. Visit the Commencement webpage to learn more and stay tuned for more details to be announced soon.
Visit the New Adjunct Center Located in B142.
The new Adjunct Center is now open and specifically designed to meet the needs of our adjunct faculty. The Center currently includes two large common spaces, offices for meeting with students, small offices for private use, a kitchenette, and lockers, and is currently unlocked/open for drop-in use by adjunct faculty 8 AM – 8 PM, Monday through Thursday and 8 AM – 5 PM on Friday. A second, satellite space will be opening on the south side of campus at a later date.
Kudos
Congratulations to the DECA team at Bellevue College for being recognized as national champions for the eighth year in a row, which is an extraordinary achievement. DECA is an intercollegiate team "sport" that has students competing against other colleges and universities in business and marketing case studies and prepared presentations. The activity helps develop problem solving and critical thinking skills, and prepares the next generation of leaders for careers across all fields of study. The relatively new Speech & Debate team was recognized as the top community college team in the nation. Twenty-three students competed and 18 of those students made it to the final round of competition and were ranked top 10 in the world in their respective events.
Kudos to BC faculty member Trevor Gamble and students Parman Kaur, Dylan Schulze, and Johnathan Reid for recently participating in a hands-on rocket build workshop hosted by Central Washington University as part of the NASA Washington Space Grant Consortium. This was an exciting kickoff for the rebooting of the Rocketry and Aerospace Club at BC which has resumed in-person meetings with rocket builds and launches this quarter.
Thanks in large part to the hard work of Beabe Akpojovwo, Bellevue College has been selected, after a competitive selection process, to send a team to the AAC&U Institute on Truth, Racial Healing & Transformation in June 2022. Way to go Beabe and team!
Congratulations to the BC Men's Basketball Team that earned 2nd place in the 2022 NWAC Championships this year. The Bulldogs finished the regular season 19-7 overall and 9-5 in North Region league play. BC beat Umpqua, Spokane, and Wenatchee Valley in the NWAC Championship Tournament and eventually lost in the Championship game to Yakima Valley. Go Bulldogs!
Kudos to Sara Gardner, Director of the Navigators Programs, who recently presented at the Microsoft Accessible University Initiative "Better Together" Inspiration Session as one of seven universities highlighted as a "Microsoft Accessible University." BC was one of three institutions that was further spotlighted to share additional information about BC's work with disabled students under the Microsoft grant to improve outcomes for disabled students pursuing careers in STEM.
Thank you to the Early Learning Center (ELC) staff for their dedication to early childhood education and development and providing affordable and quality childcare in a nurturing environment. The ELC staff have worked hard to increase enrollment after being closed for several months in 2020 due to COVID-19 and have applied for and received grants while following stringent COVID safety protocols. The ELC not only provides childcare for children from 3 months to 6 years in age, but also strives to provide healthy learning and developmentally age-appropriate opportunities in a relationship-based environment. Some of the engaging activities they participate in across campus include making pizzas at the Pizza Kitchen, story time in the Library, a fall hayride with the Grounds Crew, pottery in the Art Department, and activities in the Gym and on the athletic fields. The ELC also provides an opportunity for BC students in the Early Childhood Education program to complete internships. In a few weeks, the ELC staff are excited to open their new playground!
Recent Celebration & Awareness Days/Months
National Arab American Heritage Month
During the month of April, and throughout the year, we recognize and acknowledge the significant contributions Arab Americans—3.5 million strong—have made to this country and our own community. Check out this wonderful virtual display presented by our Library Media Center with a selection of books, eBooks, videos, and other resources to explore the rich heritage of Arab Americans.
Sexual Assault Awareness Month (SAAM)
To educate and engage the public in addressing this widespread issue, the National Sexual Violence Resource Center coordinates a SAAM campaign throughout the month of April. BC's Gender-Based Violence Prevention Office is presenting learning opportunities for faculty and staff on April 27 and 28, and there are resources for all on their website.
World Autism Awareness Day
April 2nd marked World Autism Awareness Day, and the entire month is a time to recognize and spread awareness for the rights of autistic people. In addition to raising awareness, it's important to recognize that those with autism or who are neurodivergent deserve acceptance and respect, have much to offer, and it is often nondisabled people who need to change perspectives for the true inclusion and accessibility for all. There are excellent resources and articles on BC's Neurodiversity Navigators website to learn more.
Earth Day
Founded in 1970 as a day of education about environmental issues, Earth Day 2022 occurred on April 22, and once again our Office of Sustainability created an exceptional lineup of events to celebrate Earth Week April 18-22. This year's theme, "Climate Voices: Sharing, listening, and taking action together," centered on the importance of conversations, storytelling, and the sharing of knowledge as a powerful tool to spark action and build hope for a sustainable and just future.
Gary Locke
Interim President
Last Updated May 25, 2022