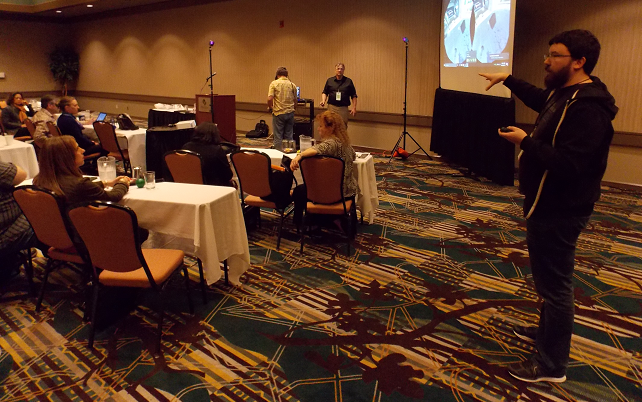 On Thursday and Friday, October 19-20, several members of the eLearning Center team attended and presented at the Northwest eLearn Conference in Pasco, Washington. Visiting Fulbright scholar James Riggall and BC faculty Bruce Wolcott presented their virtual reality systems, along with their ongoing work developing curriculum for two Winter quarter classes about virtual reality. And BC faculty emeritus Debi Griggs and Media Technician Lead Gordon Hom led a lively roundtable on voice-to-text technologies.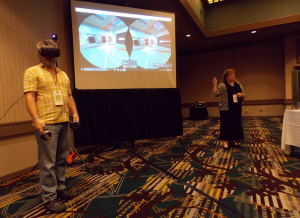 On Thursday morning, I (Keith Rowley), Gordon, Library Dean Vivienne McLendon, and eLearning Director Sukirti Ranade helped Bruce and James with their presentation, Exploration of Virtual Reality Tools for Real-Time Virtual Worlds Networking and Communication. Here is the description of the workshop:
"The Bellevue College eLearning team will discuss a partnership between the eLearning department, Library Media Center and the RISE Institute in developing a series of workshops, public events and hands-on "makerspaces". The team will discuss their plans to develop a long-distance learning lab connecting Bellevue College and the Innovation Circle makerspace in Launceston, Tasmania. Use of virtual reality technologies as well as other interactive communication strategies are planned to explore team-based projects and teaching methods."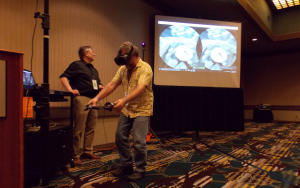 I had a lot of fun in this workshop — I got to wear the VR headset and play in a virtual mountaintop space while Bruce, James, Vivienne and Sukirti fielded questions. There was great reception from the audience and engagement with the idea of virtual reality in the field of education, and we got to tell everybody about the hands-on workshop in the afternoon, when conference attendees were able to dive into the VR experience themselves.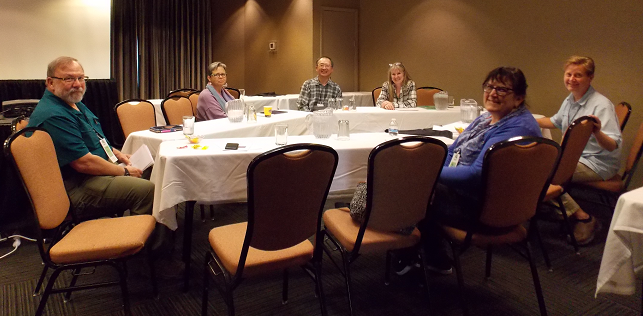 While people were losing themselves in the virtual world Thursday afternoon, across the conference center, Debi and Gordon were leading a discussion about voice-to-text tech. Here is their write-up:
"A round table on voice to text technologies. Presenters will share voice to text options like Dragon, MathTalk, Speechlogger, and YouTube, and then encourage discussion of other available technology."
I was not able to be there, but Gordon says their session was lively.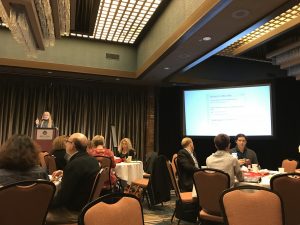 And during Friday morning's breakfast, Debi did a short presentation entitled Adding Closed Captions to Microsoft Office Mix. Here is her description:
"The effectiveness of multimedia as a learning tool is limited without captions or transcripts. All students, not only those with disabilities, can appreciate viewing text via captions or transcripts along with pre-recorded lectures."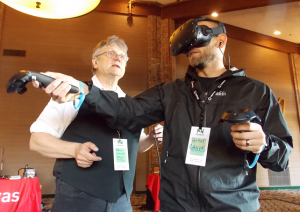 After breakfast, we set up one of the VR systems in the conference center lobby, and let passers-by don the headset for a deep dive into the full VR experience. With virtual reality, it really is all about the experience. We found that time and again, skeptics were best turned into supporters by actually donning the gear and getting in there and experiencing the "real" thing.
The college now owns two VR systems, so if you'd like to see what the state of the art is in virtual reality, keep an eye out for various opportunities to don the gear yourself.
Last Updated November 4, 2017