by Bruce Wolcott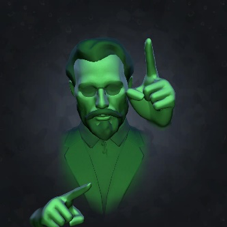 What is Virtual Reality and What's It Doing at Bellevue College?
The region surrounding Seattle and Bellevue, Washington plays host to some of the leading lights in the realm of Virtual Reality (VR)—that technology that transports you to parallel worlds of fully dimensional multi-sensory experiences. Those leading lights include companies with such familiar names as Amazon, Google, and Microsoft, as well as other developers that are less familiar to most people—Valve, Pluto VR, MXTReality, RecRoom, Oculus, Magic Leap, Unity, and Polyarc.
Virtual reality in the Seattle area was relatively unknown as a burgeoning 21st Century technology until 2016, when the first commercially available headsets became available—Microsoft's Mixed Reality, Hololens, and HTC/Valve's Vive. The rapid growth of this technology points to a future where VR will become a leading computer platform.
Consequently, it's not surprising that Bellevue College has decided to become part of this emerging technology revolution. The place where this is happening is the XR Lab, located within the Bellevue College Library.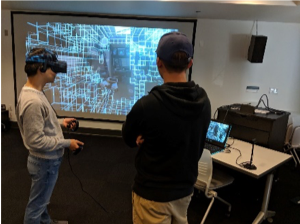 The name "XR Lab" refers to the fact that there are several different varieties of virtual reality. These include:
Immersive virtual reality. Users experience being transported to a full multi-sensory 360-degree environmental simulation.
Augmented reality. Users experience virtual objects placed within the real world.
Mixed reality. Virtual skins are mapped over real world objects.
360 Video. Special lenses and cameras record a 360 degree capture of real world or computer graphics experiences.
When many people see virtual reality users don headsets, they think that they are retreating into a self-absorbed cocoon. But part of the promise of virtual reality is that it is a social medium that allows people to communicate with each other within shared networked virtual environments.
Two Years in the Making
The XR Lab Studio was first conceived with the purchase of some virtual reality equipment in 2017 from the college's Lockwood Grant program, to explore the use of this new technology for teaching and learning. The lab provides access to a variety of "immersive" learning experiences where students and faculty interact with a variety of interactive scenarios related to biology, health care, interior design, history, immersive journalism, communications, as well as other academic interest areas.
Since the XR Lab is located in the Bellevue College Library Media Center, we provide support to programs across campus. Two of our major objectives right now are getting faculty and students familiar with VR technologies/apps and aligning these experiences with various academic disciplines.
Virtual Reality and Video Conference Classroom
One of the activities available through the new virtual reality facility is teaching students and faculty how to use equipment and learn applications. The multimedia classroom shown below provides a way for live classrooms to invite guest speakers from different parts of the planet to speak directly to class participants. These meetings can take place either through video conferencing or live meetings in shared virtual reality spaces. The furniture is on wheels and can be moved to various parts of the room, depending on collaborative project and classroom needs.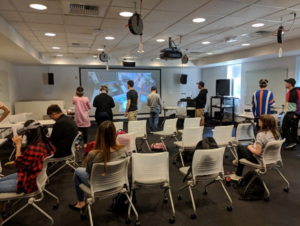 Virtual Reality Class Offered Winter 2020
Additionally, the XR Lab Studio offers a virtual reality class available to both faculty and Bellevue College students in Winter 2020. This 5 credit course has no prerequisites and doesn't require a programming or technical background.
CMST 116 Virtual Reality: Design and Communication includes the following:
Weekly guest presenters from the virtual reality industry and related fields,
Access to state-of-the-art equipment and VR applications,
Social networking and collaboration tools,
A curriculum which includes sections on VR history, Communications, Technology, World Building, Social Impact, Human Cognition, Artificial Intelligence, Futures, and Career Opportunities.
For more information about the XR Studio Lab space or virtual reality course offerings for faculty and students, contact Bruce Wolcott at bwolcott@bellevuecollege.edu.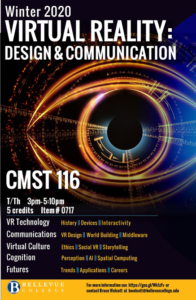 ---
Bruce Wolcott is an Instructional Designer/Technologist in eLearning.
Last Updated February 11, 2020