Notes from the President
Jun 22, 2023
Dear Colleagues,
In case you haven't heard yet, the Washington State Legislature's budget for 2023-2024 approved Cost of Living Adjustments (COLAs) for higher education employees. Both classified and exempt employees will receive a COLA of 4% on July 1, 2023 while full- and part-time faculty will receive COLAs of 8.9% and 9.5%, respectively.
The Board of Trustees approved the operating budget for 2023-2024 at their meeting on June 20. Some highlights of the budget include the following:
State fully funded COLA's
$40K for recruiting, onboarding, and retention of faculty of color
Added $100K to Neurodiversity Navigators
Added $63K to Disabled Students Navigating Stem
Added funding for a backup locksmith
Funded ctcLink project positions
Added $500K for marketing
$368K to raise exempt salaries closer to market levels
Celebrate Commencement
Commencement is almost upon us! On Friday, June 23, we will host Bellevue College's Commencement at T-Mobile Park where nearly 700 students will participate. Justice Mary Yu from the Washington Supreme Court will deliver keynote remarks, English professor Laura Burns will be the faculty speaker, and soon-to-be BC graduate Jemima Elongo will be the student speaker. Thank you to the dozens of staff and faculty who are participating in this special day and supporting our graduates. For those unable to make it, you can watch the livestream of the ceremony beginning at 3:00 PM on Bellevue College's YouTube channel.
---
Updates
Improving Student Enrollment Experiences
During Winter Quarter, the Student Affairs (SA) Division engaged with Slalom Consulting to review BC's enrollment processes to improve the experience of students and parents expressing interest in BC to students seeking to enroll on the first day of the quarter. As a result, SA is increasing clarity, reducing barriers, and revising communications in the enrollment processes. Several changes and enhancements are currently underway, including:
Creating a "Steps to Enroll' checklist for new students and updating the general welcome/admission email.
Updating messaging campaigns to prospective students to move them through the enrollment process (application, assessment/placement, New Student Orientation, Enrollment, etc.).
Launching a messaging campaign to past applicants who did not enroll at BC to re-engage with them to enroll in the coming fall.
Streamlining enrollment processes for Running Start students.
Developing FAQ's for staff in Student Central to assist with knowledge and information sharing.
Adding a FAQ section to college websites to guide students through the enrollment process.
Implementing a call center for Student Central this summer where students can reach staff by phone in the Welcome Center, Enrollment Services and Financial Aid during open hours.
SA is excited about these efforts that will lead to a better experience for students and parents, and hopefully, an increase in student enrollments.
---
Kudos
Dr. Consuelo Grier and Michelle Strange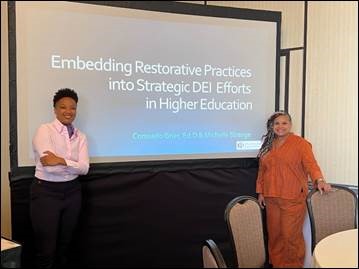 Congratulations to Dr. Consuelo Grier and Michelle Strange who recently presented their workshop: Embedding Restorative Practices into Strategic DEI Efforts in Higher Education to a packed and standing room only crowd at NCORE in New Orleans.
Associated Student Government
On June 2nd, Associated Student Government (ASG) held their first Gala celebration since the end of the COVID restrictions. The event included dinner, an awards presentation, and dancing till late in the evening. Nearly 300 students, staff and faculty dressed in formal attire to celebrate the end the year and recognize groups, events, and campus community members that have made a positive impact on the campus during the 22-23 school year. Almost 90 different nominations were submitted by students for the various award categories. Congratulations to the 22-23 ASG Gala Winners:
Faculty/Instructor of the year: Kite Arner
Staff of the Year: Miki Ishihara
Program of the Year: Choir
Club Advisor of the Year: Stacy Alvarez
Student Organization of the Year: Filmmaking Club
Event of the Year: International Night
Sports Team of the Year: Volleyball
Student Athlete of the Year: Kelci Studioso
Resident Assistant of the Year: Kenneth Ho
Affinity Coordinator of the Year: Sunny – YeeSan Lim
Student Employee of the Year: Sophia Oliveira
Trustee Rich Fukutaki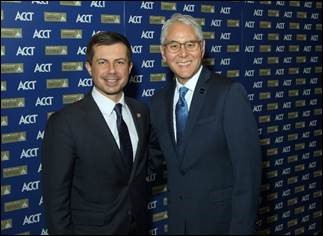 Thank you to Trustee Rich Fukutaki who represented Bellevue College well engaging with U.S. Secretary of Transportation Pete Buttigieg at the Association for Community College Trustees (ACCT) National Legislative Summit in Washington DC.
Tenured Faculty
Congratulations to the faculty members who recently earned tenure and were recognized at the annual Tenure Reception:
April Ambalina, Associate Degree Nursing
Shadi Kanan, Associate Degree Nursing
Katrina Atiya Malkin, Associate Degree Nursing
Tessa Cornish, Biology
Jessica Wang, Meteorology
Helton Leal, Mathematics
Leo Kiralla, Psychology
Jaclyn Schultz, History
Michelle Schewe, Librarian
Komal Ram, Business Management
Pratima Suneel, Information Systems Technology
Diane Walser, Network Services and Computing Systems
Trustee Richard Leigh
Congratulations to Trustee Richard Leigh who was recently elected to his second term as treasurer of the Washington State Association of College Trustees (ACT). And congratulations to Alicia Keating Polson who was recently elected as treasurer of PACTC, the statewide CTC president assistants' group.
IDEAL Fellowship
Congratulations to Bellevue College's IDEAL (SBCTC Initiative for Diversity, Equity, Antiracism & Inclusion) Fellowship participants who recently presented to a system-wide symposium. Through IDEAL, students lead a project and make recommendations for a policy or practice to college leadership. Our Fellows are: Jett Guymer, Akiel Taylor, Amethyst El-Chami, and Jeremiah Steel. They made two recommendations: 1) Cap the student activities fee at $300 per year for full-time students, and 2) Increase transparency around the usage of the student activities funds. Learn more about the students on the Peer Lead Educators website.
IDEAS Grant Awarded to BC
Bellevue College is one of 34 U.S. colleges and universities in 28 U.S. states to be awarded a grant from the U.S. Department of State's Increase and Diversify Education Abroad for U.S. Students (IDEAS) Program, which seeks to expand study abroad programs around the world. BC will send three faculty members to the Normandy region of France to build a short-term study abroad course that will employ VR and AR components (collectively known as XR or eXtended Reality) to supplement the course. This course will include an overview of Normandy with special attention focused on first-time visitors and students with disabilities.  BC is partnering with the University of Caen at Normandy on the project.
---
Celebration & Awareness
Pride Month
June is Pride Month, which is a time to recognize the achievements of our LGBTQIA+ communities and acknowledge the struggles they still face. The original organizers chose June to pay homage to the Stonewall uprising in June 1969 in New York City, which helped spark the modern LGBT-related movement. To learn more about Stonewall and LGBTQIA+ activism, visit the BC Library Media Center's virtual display.
Juneteenth
Juneteenth, which was earlier this week, commemorates the day in 1865 when the enslaved people in Texas learned that two years earlier the Emancipation Proclamation had become law. While we expand our learning and understanding of this and other significant moments in our nation's history, we must also recognize that more than 150 years later, there is still much work to be done. Want to learn more about Juneteenth? The National Museum of African American History & Culture's virtual programs and educational lessons is a great place to start.