Women's Volleyball Team Support Each Other on and off the Court
May 4, 2023
After an almost two-year hiatus due to the pandemic, the Bellevue College women's volleyball team ended their first full season since 2019 with a third-place finish in the Northwest Athletic Conference.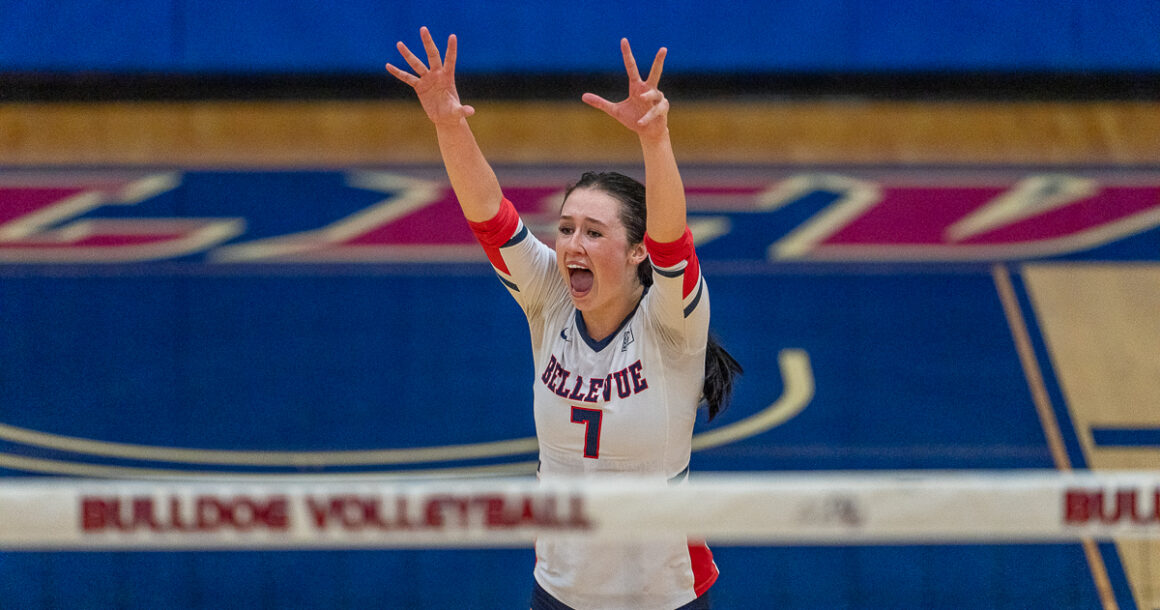 After an almost two-year hiatus due to the pandemic, the Bellevue College (BC) women's volleyball team ended their first full season since 2019 with a third-place finish in the Northwest Athletic Conference (NWAC) last November.
"We're really proud of them," head coach Jocelyn Lawrence said about the team.
It was a long road and a season filled with ups and downs—with the downs ranging from injuries to illness, the team "got dealt a lot," she said. One player tested positive for COVID during the season, another got a concussion, and another underwent emergency appendectomy surgery. But Lawrence said the team handled everything with a lot of grace and patience with each other.
"That was nice to see," she said, adding that as a coach, she is extremely proud of the young women for their grit and tenacity throughout the season, for not being phased by any of it and bouncing back from these setbacks.
Outside hitter Marin Mackey said this past season was a great ride. While they did have some challenges, everyone had a good attitude and people stepped up when they needed to, which helped them through the hardships.
"We made the best out of a bad situation," the sophomore said.
In addition to the success with the team, Mackey was named the most valuable player of NWAC's north region, as selected by region coaches.
"It was such an honor to be recognized," she said.
A welcoming team
With a team of 12 that was half returning sophomores and half freshmen, Lawrence said the former "did a really great job" in welcoming the latter to the program.
Freshman Lauren Wittmers agreed, saying her teammates were very supportive. With volleyball being a team sport, it took a little time for her to adjust to playing with a new group of women—especially as she was coming from Gig Harbor and was new to the Bellevue area. But Wittmers said the team, and living with her best friend and teammate from her hometown, helped with this.
"They made it really easy to be myself and play my game," she said.
Mackey also understands that feeling of being new to a team and area, coming from Richland in the Tri-Cities. So as a returning member, she wanted to make sure the freshmen felt welcome because it's easy to become homesick.
"It is scary coming to a new area," Mackey said, adding that she bonded with those who were also far from home.
Support from all sides
Wittmers said Lawrence and the rest of the coaching staff were also there to support her and her teammates. They took them under their wings, treating them like their own kids.
"It was really nice to have these female role models in our lives," Wittmers said. This included stressing the importance of academics and holding team study hall sessions so they could stay on top of their schoolwork.
Lawrence pointed out that while some of the women on the team will move on to four-year schools and continue playing on teams there, that's not everyone's plans. And she enjoys seeing her players get what they worked for and be successful—whether that's on or off the court.
Although athletics at four-year colleges and universities are well-known, the same can't be said for programs at community colleges. Lawrence said including volleyball, BC has 11 sports in its athletics program, including men's and women's basketball, golf, tennis and soccer, as well as men's baseball and women's softball. And during the volleyball season, many student athletes from BC's other teams came out to support their fellow Bulldogs.
"They were great," Lawrence said. "We had a lot of support this year."
Most of the time, the women on the team are from Washington. But Lawrence said this year, they had three out-of-state athletes, one from Alaska and two from Idaho. Despite having a team that was half new athletes, she said they all became very close friends.
Both Wittmers and Mackey could attest to this, with Wittmers saying a season highlight for her was traveling to away tournaments, staying in hotels, and bonding with her teammates. She added that after the end of the season in November, team members have hung out together a few times, and they even did a gift exchange during the holidays.
And Mackey described the group as a "big team of really good friends."
"We have a really great group of girls," she said.