Rates and Layouts
Bellevue College Housing offers suite and apartment-style housing with various layouts. Square footage and layouts are approximate and vary by location in the building. Each layout has a different cost for the quarter or academic year.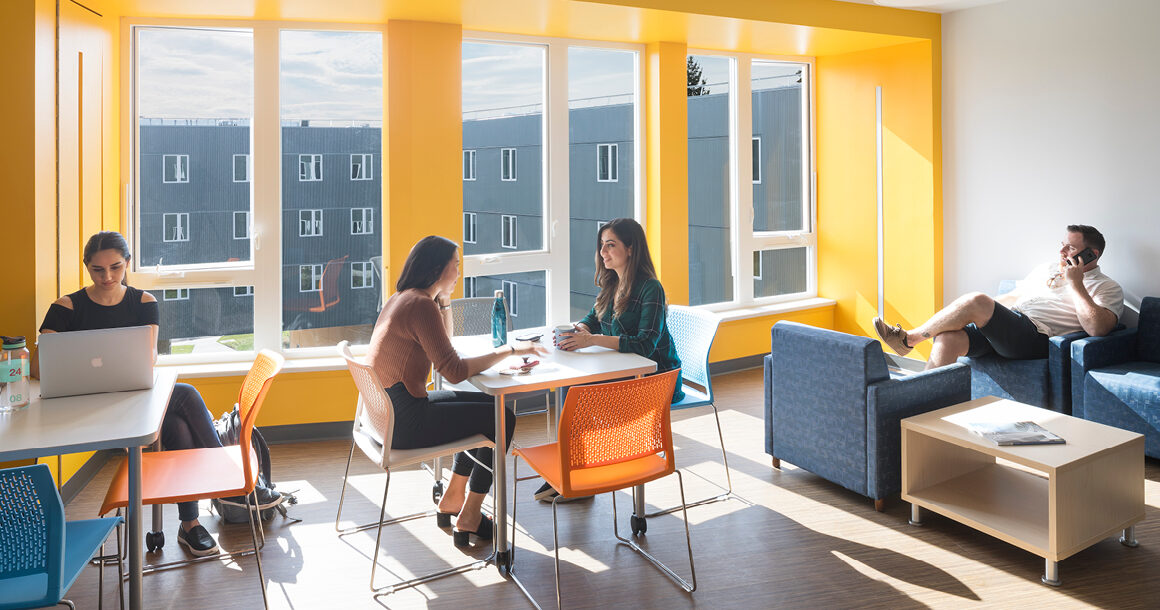 BC Housing Information
All Housing rates are per student, per quarter.
Please note that studio style units, private bedroom suites (Two bedroom, two person and two bedroom, three person suites) and private bedroom apartments (Four bedroom, four person apartments) are expected to be completely full for fall quarter 2022. New applicants will have the best chance of getting a room for fall 2022 if they rate a "shared bedroom suite or apartment" in their housing application under "room style preferences".
The main difference between suites and apartments is that apartment units include a living room and second bathroom.
The full cost of housing fees per quarter are due on or before the first day of classes each quarter. Payments may be made at Student Central or through any of the listed payment options shown online.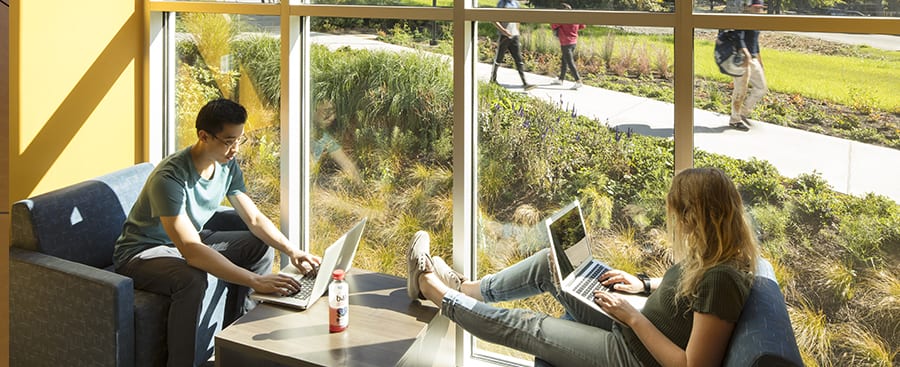 For students receiving financial aid, any funds awarded will be applied towards housing only after tuition and fees are covered, in full. Most grants do not fully cover the cost of housing. Please contact Financial Aid if you have specific questions about your award.
Pricing for housing includes all of the following:
All utilities — water, electricity, heat, garbage, and recycling.
Internet — wi fi and wired ethernet.
Furnishing — all living units are fully furnished.
Community space — Students will find community spaces throughout the housing facility.
Access to campus services — Services such as Public Safety are available on a 24 x 7 basis. Additionally, events and programming geared towards housing residents will be provided as part of the pricing.
The following are not included in the price:
Parking. Find out more information about campus parking at Locations & Maps. This page also has information about Zimride carpooling, biking, busses and ORCA cards.
Laundry. A laundry facility will be available on the ground floor of the building. At this time, laundry costs have not been determined.
Cable TV. Cable TV will not be provided in the building and students will not be able to purchase cable independently. Students can use their own internet streaming services.
Rates By Unit Type
| Unit Type | Summer 2022 | Fall 2022 | Winter 2023 | Spring 2023 |
| --- | --- | --- | --- | --- |
| One BR/One P Studio | $3,842.00  | $5,610.00  | $5,610.00  | $5,610.00  |
| One BR/Two P Studio | N/A | $3,520.00 | $3,520.00 | $3,520.00 |
| Two BR/Two P Suite | $2,897.00  | $4,284.50 | $4,284.50 | $4,284.50 |
| Two BR/Three P (Shared) Suite | $2,120.00 | $3,135.00 | $3,135.00 | $3,135.00 |
| Two BR/Three P (Private) Suite | $2,897.00 | $4,284.50 | $4,284.50 | $4,284.50 |
| Two BR/Four P Suite | $2,120.00 | $3,135.00 | $3,135.00 | $3,135.00 |
| Two BR/Four P Apt | $2,612.00 | $3,850.00 | $3,850.00 | $3,850.00 |
| Four BR/Four P Apt | $3,105.00  | $4,576.00 | $4,576.00 | $4,576.00 |
Summer 2023, Fall 2023, Winter 2024, and Spring 2024 housing rates will be posted once they are available. 2023-2024 applicants may use 2022-2023 as a general guide. Rates are likely to change for 2023-2024.
Layouts
Layout shapes and sizes do not exactly reflect all building units.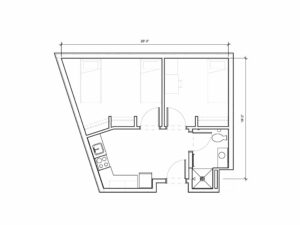 Two Bedroom / Three Person Suite – S*
This unit has one private bedroom and one shared bedroom, with one bathroom. The shared bedroom may be temporarily private during COVID-19 response.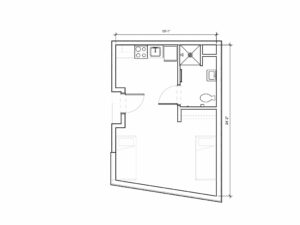 One Bedroom / Two Person Studio OR One Bedroom / One Person* Studio
If shared, this unit has one shared bedroom space and one bathroom.
If temporarily private, this unit has one temporarily private bedroom and one bathroom with two sets of furniture.