Frequently Asked Housing Questions
Have questions about BC student housing? Get the answers you need.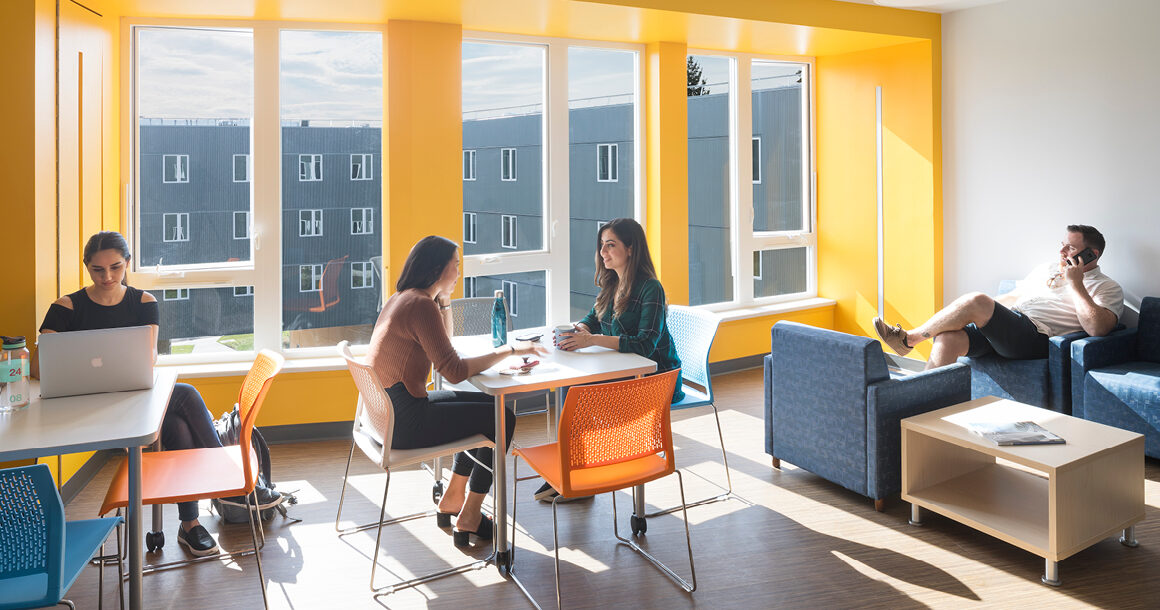 Move-in takes place at the Bellevue College Residence Hall (H-Building) front desk on the ground floor across from Courter Field on a pre-scheduled day between 9 a.m. and 4 p.m.
Move-ins that take place outside of the designated date and time must be pre-scheduled by emailing housing@bellevuecollege.edu. Move-ins should occur within regular business hours.
Every unit is equipped with a kitchen containing a stove, sink, refrigerator and cabinets. Pots, pans, plates, and utensils (such as knives, forks and spoons), etc. are not provided.
Each bedroom comes with bed, mattress, desk, chair and dresser for each student. The bedroom also has an open closet.
Apartment living rooms have a couch provided.
Housing provides students with the space, the furniture, and the experience of living on-campus in an engaging, educationally-driven environment. Students should consider bringing only those items which will support them while they are pursuing their education at Bellevue College.
We provide a list of some suggested items.
Yes. You can bring in one mini-fridge per bedroom but mini-fridges should not exceed 4.5 cubic feet.
Bellevue College does not currently offer a meal plan. All units in the Residence Hall come complete with a kitchen so that students may prepare meals for themselves. Bellevue College Food Services offers a Dining Card that allows students to pre-load funds for use at campus eateries, when open.
No. Cable is not provided and students cannot sign up for a cable provider.
Wired internet and wi-fi are provided throughout the building.
The resident rooms are not air-conditioned. Housing recommends students purchase fans if necessary. Residents cannot install air conditioners. If a student needs air-conditioning due to medical reasons, they should contact the Disability Resource Center at (425) 564-2498 or drc@bellevuecollege.edu to request an accommodation. There may be a fee associated with air-conditioning installed by the campus.
The only pets allowed in Housing are tropical fish, which can only be kept in a single tank that is 10 gallons or less.
Service and emotional support animals must be approved through Disability Resource Center (425) 564-2498 or drc@bellevuecollege.edu prior to move-in.
If your contract ends at the end of the academic quarter, you must move out at the end of that quarter. If you have a multi-quarter contract, you do not need to move out for the quarter break.
Yes! Roommate agreements will be an interactive process done between roommates and with RAs.
Residents are responsible for cleaning their apartment or suite. Vacuums are available to be checked out at the front desk.
Residents are responsible for damages in the apartment or suite beyond normal wear and tear. Residents are also responsible for cleaning the apartment or suite before check out.
Housing will deduct any charges from the resident's refundable $100 deposit. If charges exceed the deposit amount, the additional charges will be placed on the resident's account. If damage to an apartment or suite cannot be linked to one resident, the charges will be split between roommates.
Access to the residential areas of the Residence Hall is restricted 24/7. Residents can use their key to open building exterior doors, their apartment or suite entrance, and their bedroom door, as well as stairwells and elevators leading to the residential floors from the first and second floor public areas.
Additionally, Housing and Public Safety staff are available 24/7 to respond to student safety and security concerns.
There are no curfews and no specific visitation hours. Residents must escort guests at all times and residents will be responsible for guest behavior. Guests cannot be tenants. Guests may not stay with a resident more than three (3) consecutive nights in a row and/or seven (7) non-consecutive nights in a quarter. Residents must obtain roommate permission to have an overnight guest in a shared bedroom and must give advance notice to suitemates/apartment mates.
Students enrolled in high school programs (such as Running Start) or in non-credit programs must be over the age of 18 at the time of move-in. Students enrolled in Bellevue College credit programs full-time must be over the age of 17 at the time of move-in.
Yes, but we will work to limit extreme differences.
Suites and apartments will be single-gender unless otherwise requested and agreed upon by all roommates.
Every quarter, there will be a period in which residents can formally request a room change. If a room change results in a different room style, a change in billing will occur to reflect the new room style.
Room changes outside of this process will occur on a case-by-case basis.
There are several food options on campus, including the Housing Pizza Café and the on-campus Cafeteria. There are also several stores to the north and south of campus including a nearby QFC and Shell Convenience store. Additionally, residents can purchase many items online and have them shipped to campus.
Laundry is located on first floor, just past the Housing front desk. Laundry is $1.50 per load and students may pay with either quarters or via the PayRange app.
Students should contact the Parking office to get a parking permit. Residents will not have a special parking permit. Residents can park in any student parking lot. Residents are not permitted to park in lot 9.
Parking for visitors will be consistent with existing campus visitor parking. There is also a 15-minute loading zone in front of the Residence Hall for deliveries or drop offs and pickups.
Deliveries can be ordered to the Residence Hall, but students must be prepared to receive them as soon as they arrive. When ordering deliveries to the Residence Hall, students are encouraged to include the following delivery instructions: "Large gray building across from the baseball field, where SE 24th St. becomes Kelsey Creek Road."
Students are not permitted to order recurring food delivery services (Hello Fresh, Freshly) to the Residence Hall as they cannot be stored safely.
Resident mailboxes are located in the Housing lobby, across from the front desk, and correspond with the resident room numbers. When receiving packages, residents will receive a package slip in their mailbox that they will need to take to the front desk, along with a photo ID, to retrieve their package.
Because all mail is first processed through the Bellevue College Warehouse, residents should expect to wait up to two business days to receive their packages. All mail is processed at the Housing front desk by 6 p.m. on weekdays.
Students should use the following template:
Your name
Bellevue College Residence Hall
Room #___
3000 Landerholm Circle SE
Bellevue, WA 98007
All maintenance issues should be reported to Housing staff immediately. Bellevue College Campus Operations will respond to the report at their earliest availability. Maintenance will be done outside of business hours only in emergency situations.
Conduct enforcement will be done in conjunction between Housing and Student Conduct.
The legal drinking age in Washington is 21. Residents and guests may not possess, purchase, or consume any alcoholic beverages unless they are 21 years of age or older. Residents and guests 21 years of age or older may not purchase or provide alcohol to underage persons. Residents and guests of age are not to consume or possess alcohol in any room in the presence of any students under the age of 21. Residents and guests of age may not consume or possess open containers of alcohol in any public area or common spaces. The Student Conduct Code prohibits public intoxication on college premises or at college-sponsored events, which includes Residence Hall common spaces and at Residence Life sponsored events.
The Bellevue College Residence Hall is a smoke free community. The use of tobacco, electronic cigarettes, and related products is prohibited, including twenty-five (25) feet from entrances, exits, windows that open, and ventilation intakes of any building owned, leased, or operated by the College.
For all concerns, residents can contact their Resident Assistant or the Housing front desk.