Contact the Financial Aid Office
Learn about the different ways to connect with the Financial Aid Office at Bellevue College.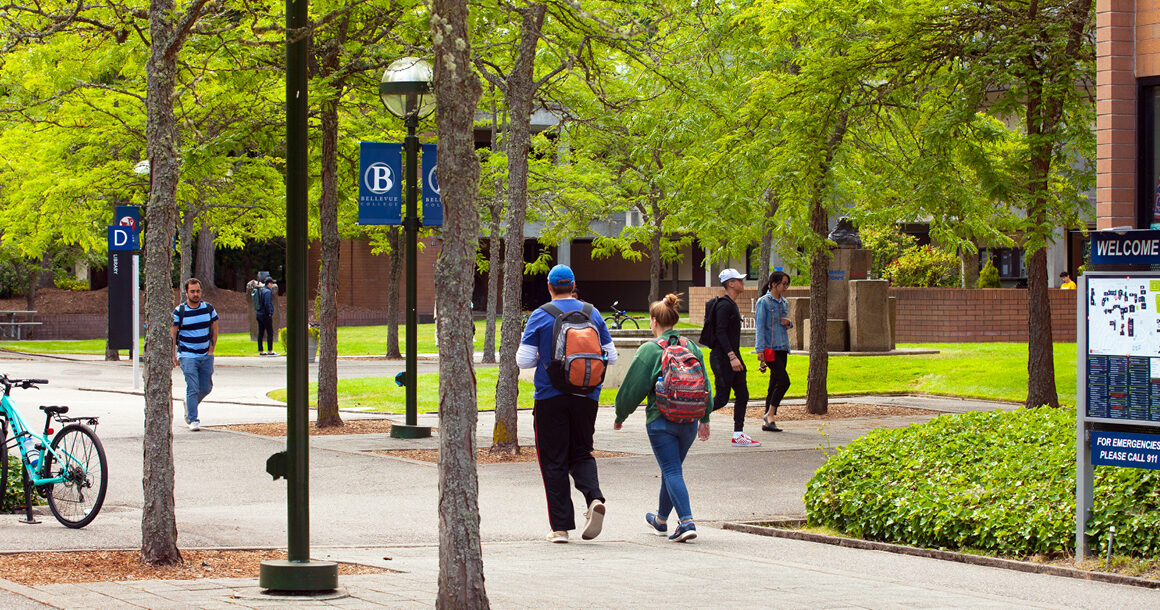 General Information
For assistance, please submit an online request, contact us by phone or speak with a Student Central representative during our posted service hours.
Online support
Request help by submitting a request online.
Financial Aid Frequently Asked Questions (FAQ)
Question
Answer
What is this F02 hold on my account?
An F02 "hold" may be placed on your account if you met the financial aid file complete deadline and have registered for classes. Holds are added weekly until the quarter starts. This hold does not have a negative impact on your account and indicates your classes are held so you will not be dropped for nonpayment.
Do I have to attend full time to receive aid?
No. We offer financial aid based on full time status and adjust awards for less than full time. (full time is 12 or more credits). If you plan to take less than 12 credits, you'll need to let us know.
Do I need to complete a FAFSA or WASFA for every quarter?
No. You apply once per year. The Academic year begins July 1st and ends June 30th. Go to our webpage on how to apply for aid.
Where do I see my financial aid in CTC Link?
You can login to ctcLink and check your financial aid in the Student Center and then go to the Financial Aid tile. See the full steps for how to check your status in ctcLink.
How do I apply for financial aid?
1. Apply for Admissions to Bellevue College.
2. Complete the FAFSA or WASFA but do not complete both.
3. Check to make sure your program plan is correct.
4. Complete your financial aid file "To Do" list
How do I use my financial aid to pay for classes?
The Financial Aid Dept will apply financial aid to tuition and fees first and any remaining aid will be refunded to the student via Bank Mobile.
What if I miss the application deadline?
You may still receive financial aid if you missed our deadline providing we determine you are eligible. However, payment will be required up front or use of our NelNet Payment Plan prior to the tuition & fees deadline.
If I have aid another college, can it transfer to BC?
Yes, however your aid will not transfer automatically. You have to add BC to your financial aid application and complete any checklist items you may have. Please check our website for our deadlines and other important information.
How is my financial aid effected if I fail or withdraw from a class?
Withdrawing from classes after we pay your tuition may result in you owing some or all of the financial aid you received back to the college or the financial aid programs and potentially loss of aid in future quarters.
Are there extra steps if I want a student loan?
Yes. If you need to borrow loans you will need to submit the BC loan application and complete Loan Entrance Counseling and a Master Promissory Note at www.studentaid.gov.
What if my income is less now than when I filled out my FAFSA?
When circumstances change, and the FAFSA does not accurately reflect your family and income situation, we may consider your unique circumstances and make changes to your FAFSA, or adjustments to your Cost of Attendance. This may increase your eligibility for financial aid funds. BC has a Special Conditions Appeal form available on our web page.
When will I find out if Financial Aid will cover my classes?
All financial aid offer notifications will be sent to your BC email or you can login to CTC Link and see your offer in the Financial Aid Tile.
Have a different Financial Aid question?
Contact us: